The photos show several of the crocheted purses in the instruction booklet I picked up in my travels. They are designed to be made of jute, but I am wondering about regular yarn. Also each has what might be a lucite bobble added to it.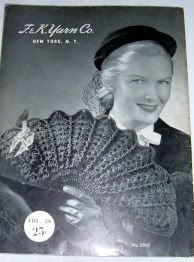 Not sure when this is from as there are no dates, but I'd have to say later 1940's from the photos. What do you think??

I'm torn between the fan purse in the right hand photo, and the fan purse in the middle photo as my favorite. Be sure to click on each to see the larger image and the details.