Here's a blast from the past! I ran across this Spring/Summer 1977 Better Homes & Garden's publication: 100's of Needlework & Crafts Ideas.
There are several photos with directions. The quilt is quintessential 70's colors - gold, brown, green. Thanks goodness, no orange in this one! The chair with the small pagoda is an article on Punjabi Weaving, giving several examples of summer lawn chairs re-woven in bright color jute or wool.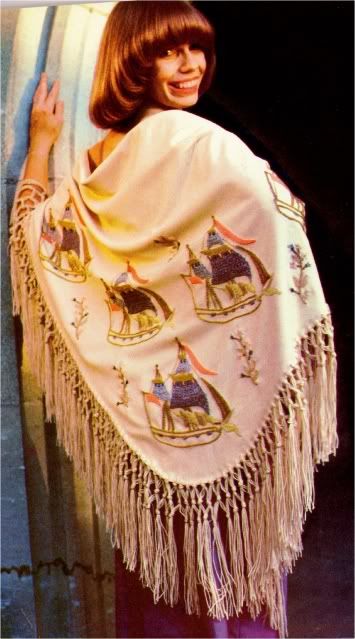 And there is a lot of "fashions". Now I love this shawl with the galleons on it - embroidered in wool on a wool shawl. I might make one for myself and it would still be good. Not with that Toni Tennile (The Captain & Tennile - Muskrat Love - another oh, no).
But look at that next outfit - loud colors (oh no, the orange!) in a "country" skirt, with a peasant blouse. And the Brunhilde braids! I don't think anyone really wore this, at least not in that level of color.
And, if it is the 70's you know that macrame has to be included. The best item is this purse, with a macrame strap and front.
Let's see, Spring/Summer of 1977, where were you? I was at university in Windsor, Ontario. I was taking summer classes to "catch up"for the two years I lost working instead of going to school. The following year, I graduated from the University of Windsor. Seems like it is a whole lifetime away.