It has been a few weeks, but I am back to post now. I've had a crazy August and a hectic September, but tomorrow starts October and I am hopeful things will settle down. Hopeful I tell you!
My first batch of sewing was to make baby things for my niece's little guy, who should be here by the end of October. I used an out-of-print Butterick pattern from 2000. The photo below is the clearest I have of the design, as I was in a hurry to wrap things up - and forgot to take photos!
So these photos are from the shower itself. It was a beautiful day, and a great setting for the shower. Jennifer got a lot of things, but I was the only one to make what I gave, and my mother was the only other guest to offer a hand-made gift. She purchased a sweater, hat and bottee set that was hand-knit by one of her local senior citizens at a craft day.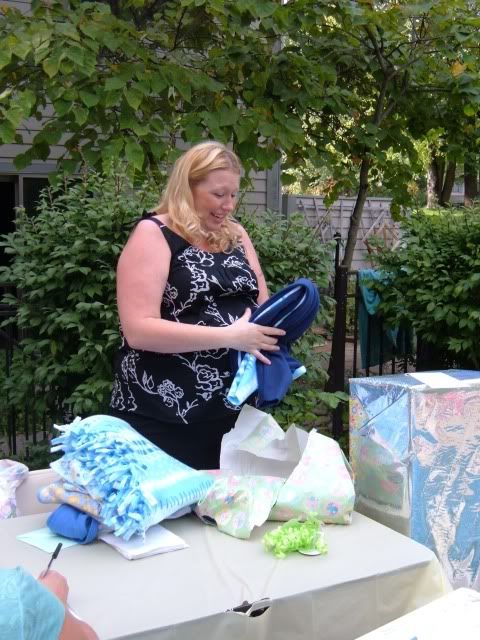 I used the out-of-print pattern to make a one-piece pajama with a matching hooded jacket (photo on left). You can't tell, but I used the left overs from one of the minky caftans I made over the winter (
http://sallysews.blogspot.com/2009/02/weekend-sewing-2-2-09.html )
. I had to do some creative cutting, but it felt good to re-use what would otherwise be leftovers. The second set was a baby bunting from a McCall's pattern - I made it with a light blue/aqua/white print and a dark blue solid fleece (center and right photo). It was the "bag", a hat with bunny ears and a fringed fleece blanket.
Then there was a set with the rubber ducky flannel (shown as first photo, above, and below) which was made up of a onesie pajama and a matching blanket. Not shown was a solid blue rib knit pajama.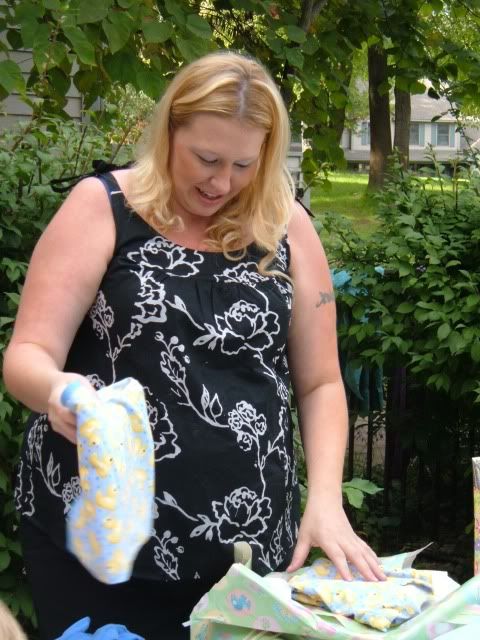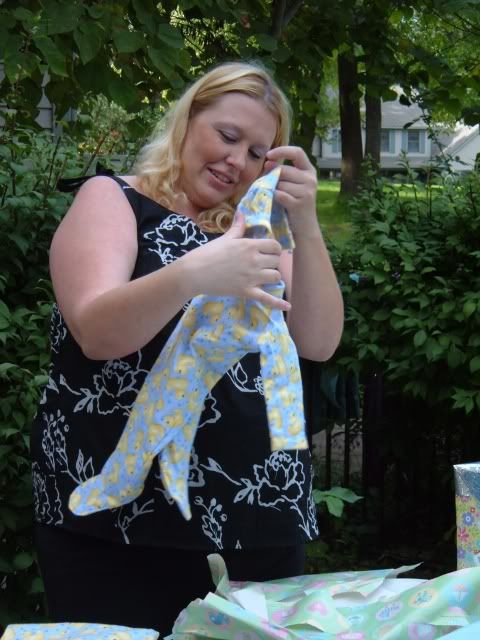 The fourth set was a flannel bunting with two matching larger blankets.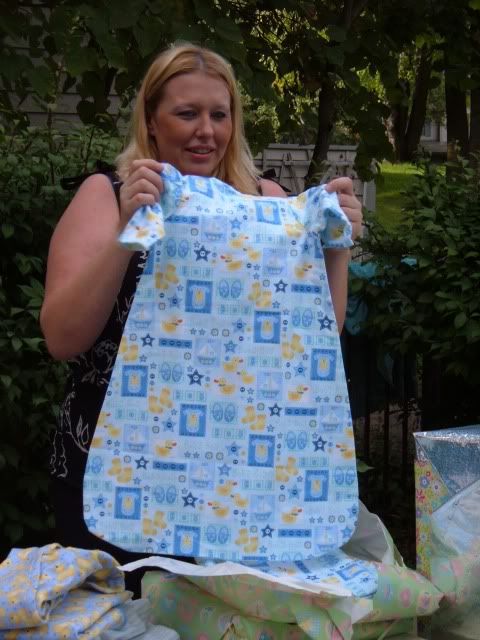 And finally, since the baby is due on October 24 or 25, I wanted to be sure he had a Halloween costume. So I crocheted the pumpkin hat and bib below. The face on the pumpkin made from black craft felt.