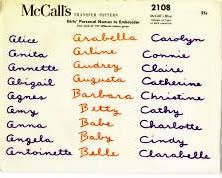 This is the second vintage pattern I snagged, and it is also a transfer. The envelope dates 1956. It provides four transfers each of197 girls names.
As a Boomer, I expected to see Cindy, Linda, Debbie, Karen, Donna, Barbara, and even Joanne on the list. I went to school with lots of girls named those names. I didn't expect to see Arabella, Clarabelle, Isabelle, Priscilla, or Yolanda. And Sally is on the list too, even though I only ever met one other Sally - and she was in my homeroom in jr and sr high - Sally Blackwell. Whatever happened to her?
Anyway be sure to click on the photos to enlarge them so you can see the list. It is a mix of Boomer and older names, and some names I think of as more modern.