I posted about this pattern earlier this year. I am finally getting around to showing the results of the three items I made with it. Somehow I'd forgotten them last week when I posted about my summer sewing.
First up is a tunic in a semi-sheer muslin. This fabric is from deep, deep stash - I may have had it since the late 70's, or maybe the early 80's. I know I had it before I got married in 1986! I just loved the combo of the fabric and tunic - put me in mind of the "old days". I've worn it several times, and it looks good with khaki Capri's as well as jeans.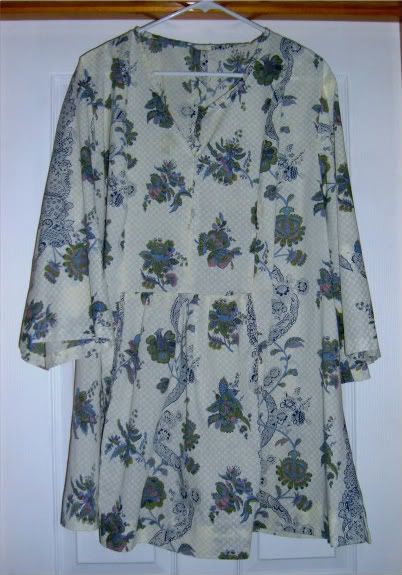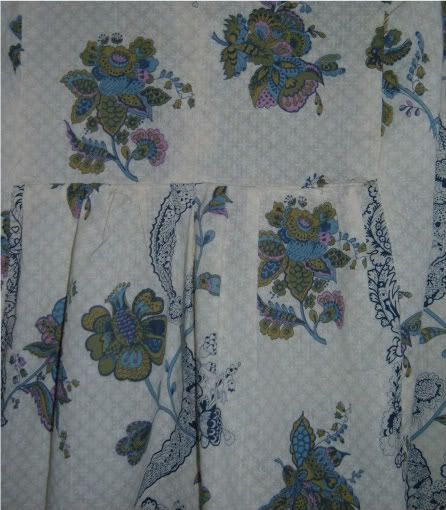 Then I made a second tunic using a pre-crinkled heavier cotton from Fabric.com. It is so warm, I haven't really been able to wear it anywhere as yet - I've put it on twice and felt too hot to wear it. So it may be a transitional item. You can't see the detail, but I put on aqua ric-rac at the yoke, then beaded each point with a teal bead on the inside points and a yellow bead on the outside points. The yellow are quite tiny and are hard to see.
The third item was a dress from the same tunic/dress pattern. It is in a polished cotton, in a wild combo of bright pink and yellow with a few touches of green. I've worn it several times and it is cool and comfortable. On the neckline, I inserted a double piping. I've never done it before. I ended up sort of "rolling" the facing over the edges of the piping to create a third line of piping with the garment fabric. Don't ask me how I did it, I don't think I could repeat it! 8-))
So the question of the day: What sewing "misadventure" that you thought was a mistake turned out to be a good addition to the garment??