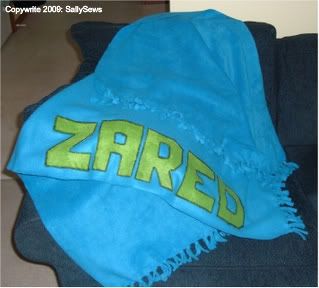 Wish I got more done, but this is my output for the weekend. First, little Zman is going to preschool this week for the first time. He has to have a blanket for quiet time, so you know grandma had to make one for him. It is pretty simple - fleece with fringe, but I wanted to add his name. This turned into a multi-hour ordeal, sewing, ripping, applique, ripping - I finally dug out my heavy strength iron on adhesize and used that for the letters. I ripped a plain 8.5X11 sheet of paper into quarters, then made a pattern of each letter.
I made a second lounger from McCalls 5768, using similar fabic, but in green and white. This time, I raised the slit opening a bit, but other than that, it is the same and is as comfortable as the pink and white lounger I made earlier.
I cut a third one out to be made in cotton, but somehow got confused - I thought I had four yards, but I only had 3! Of course, I did not figure this out until after I had the first piece cut out. So I spent a lot of time on Sunday looking for the same fabric (an Alexander Henry from 2006), in the same color. I did finally find it at The Quilted Fox in St. Louis, MO, so am waiting for the delivery of the new fabric to complete that project.